---
Mark Zuckerberg's Facebook Page Hacked - Twitchin Kitten - 12-07-2011 11:23 AM

When will people realize this thing is evil?

Mark Zuckerberg's Facebook page Hacked <--clicky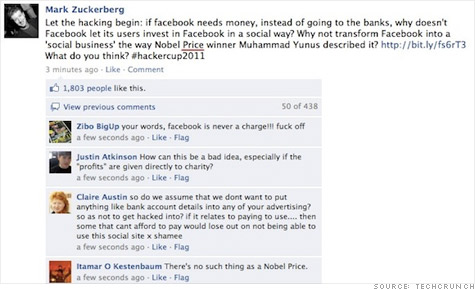 NEW YORK (CNNMoney) -- Facebook founder Mark Zuckerberg's fan page was hacked Tuesday -- a high-profile breach on a site that constantly faces scrutiny about its handling of its members private data.

The message that appeared on Zuckerberg's page under his name read: "Let the hacking begin: If facebook needs money, instead of going to the banks, why doesn't Facebook let its users invest in Facebook in a social way? Why not transform Facebook into a 'social business' the way Nobel Price winner Muhammad Yunus described it? http://bit.ly/fs6rT3 What do you think? #hackercup2011"

The message received a flurry of more than 1,800 "likes" before it was removed from the page. Facebook's representatives have not returned calls seeking comment.

Zuckerberg wasn't the only famous figure to have his Facebook page hacked this week. A hacker posted a message on French President Nicolas Sarkozy's wall on Sunday that stated the president would not run for re-election.

Sarkozy responded with a post saying no "qu'aucun système n'est infaillible" -- which translates to 'no system is infallible.'

While Facebook staying silent on the hack, the company posted a blog entry Wednesday morning titled: "A Continued Commitment to Security." It draws attention to Data Privacy Data, which takes place this Friday. The day is an international effort by governments and businesses to draw attention to personal-data protection issues.

"A key part of controlling information has always been protecting it from security threats like viruses, malware and hackers. That's why we've developed a number of complex systems that operate behind the scenes to keep you secure on Facebook," the post read.

The unsettling breaches raise questions about the company's security.

"Mark Zuckerberg might be wanting to take a close look at his privacy and security settings after this embarrassing breach," Graham Cluley, senior technology consultant at Sophos, wrote on the security protection site.

"It's not clear if he was careless with his password, was phished, or sat down in a Starbucks and got sidejacked while using an unencrypted wireless network," Cluley said. "However it happened, it's left egg on his face just when Facebook wants to reassure users that it takes security and privacy seriously."

Hemanshu Nigam Founder of security consulting company SSP Blue says the breach was probably due to phishing rather than a complicated hack.

"Hacking is when you're actually breaking the code -- you have to hack into Facebook's system," he said.

"You don't need to engage in that sort of technical attack. It's easier to exploit in through phishing," he said "It's also easy as a user of Facebook to be on guard and not click on a link you don't think your friend would send."
---
RE: Mark Zuckerberg's Facebook Page Hacked - Havoc - 12-07-2011 11:30 AM

There really is no security on the internet.

There never has been, and it's getting even worse in the real world, when you have to swipe your drivers license to buy cigs or alcohol, give the fucking optomitrist your name date of birth and your social to get glasses made, every gawddamn form you fill out is a chance for identity theft, and yet our government from the local up to the fed tell you to protect your information and we all know it's a fucking impossible quest, it can't be done.

Computers and the internet are a wonderful thing, but they are also a scourge to the population in general.


---
RE: Mark Zuckerberg's Facebook Page Hacked - Twitchin Kitten - 12-07-2011 11:47 AM

I think I have something posted on this site about where you must give out your SS# and where you can tell them to fuck off even if they insist. You're right though, anywhere and everywhere you go your privacy means nothing. I think Bush passed some kind of privacy law that makes it impossible to find out family members medical information even if you are listed as next of kin (IE: i cant even call on Matt's behalf and make an appt for him to see his doctor at the VA) but privacy as we know it everywhere else is a joke.

I don't think we have a right to privacy though, even though many think it's part of the Constitution. I think that's one of those tricky bits in there that is not quite understood.


---
RE: Mark Zuckerberg's Facebook Page Hacked - Rhubarb - 12-07-2011 05:12 PM


(12-07-2011 11:47 AM)

Twitchin Kitten Wrote: i cant even call on Matt's behalf and make an appt for him to see his doctor at the VA) but privacy as we know it everywhere else is a joke.


Same here, can't book an appointment for another member of the family. My dad has great fun, since he is deaf. Mum phones, hand the phone to him when the receptionist answers, he tells her he is deaf and now going to pass the phone back to my mum to book him an appointment. Done!

I can't collect Mark's prescription from the surgery, BUT, I can if he requests the repeat through the shop. We have a collection service and we have to obey a patient confidentiality rule (ooops may have just broken it there)


I suppose a social site like FB will take what you give them. Answer is, to give them as little as possible to use.


---
RE: Mark Zuckerberg's Facebook Page Hacked - LKTraz - 12-07-2011 05:24 PM

The closest thing in the constitution is the 4th amendment.

"The right of the people to be secure in their persons, houses, papers, and effects, against unreasonable searches and seizures, shall not be violated, and no Warrants shall issue, but upon probable cause, supported by Oath or affirmation, and particularly describing the place to be searched, and the persons or things to be seized."

This doesn't assure privacy and there really is no RIGHT to privacy. It's a generally agreed upon principle by society and nothing more.


---